Blue Ridge Scenic Railway
How about a great family adventure on the Blue Ridge Scenic Railway starting at the historic depot in downtown Blue Ridge, Georgia? The train winds alongside the beautiful Toccoa River with one stop in the twin border towns of McCaysville, Georgia and Copperhill, Tennessee. Visit their website at brscenic.com.
Hiking & Biking
Georgia's Blue Ridge has countless opportunities for outdoor fun and hiking or biking are great ways to get up close and personal with our beautiful area. Use the links below to find your next hiking or biking adventure.
AllTrails.com Trail Finder – Search 50,000 trails and get personal recommendations.
Self guided tours from the Fannin County Chamber of Commerce include both a map and detailed directions in PDF downloads.
Big Peach Running Co. is a locally owned and operated retailer serving the needs of metropolitan Atlanta's ever-growing community of runners and walkers. It is for everyone interested in a pedestrian-active lifestyle.
Blue Mountain Bikes is Blue Ridge's newest bike shop.  We are a small shop focusing on promoting the sport of mountain biking in North Georgia.
Cartecay Bike Shop – Ellijay, GA. A full service bicycle shop at the foothills of the Southern Appalachian mountains. Ellijay is the Mountain Bike Capital of Georgia with over 50 trails and growing. We are not just a shop, but are part of a community of cyclists and stewards of the trails and roads in North Georgia.
Blairsville Bikes & Hikes – A full service bicycle and outdoor gear shop. We also conduct road and mountain bike group rides.
Southern Appalachian Bicycle Association – The Southern Appalachian Bicycle League welcomes riders of all ages and abilities, with skill levels ranging from novice to elite. Individual interests vary from those who just like touring at a casual pace, to those who love competition and racing.
Trout Fishing
Blue Ridge Chapter Trout Unlimited – The mission of Blue Ridge Trout Unlimited is to further TU National goals of protecting, restoring, and conserving coldwater fisheries by involving its members and supporters in conservation, education, fund raising, and communication directed to coldwater fisheries in the North Georgia mountains and the people who may use and depend upon those fisheries.
Oyster Fine Bamboo Fly Rods – William "Bill" Oyster is a full-time career bamboo fly rod maker with a workshop in one of the south's most authentic mountain towns, Blue Ridge, GA. Offering custom bamboo fly rods, bamboo rod making classes, and a complete assortment of traditionally styled reels, lines, and accessories, Oyster Fine Bamboo Fly Rods is a family business in the most classic sense.
ZipLining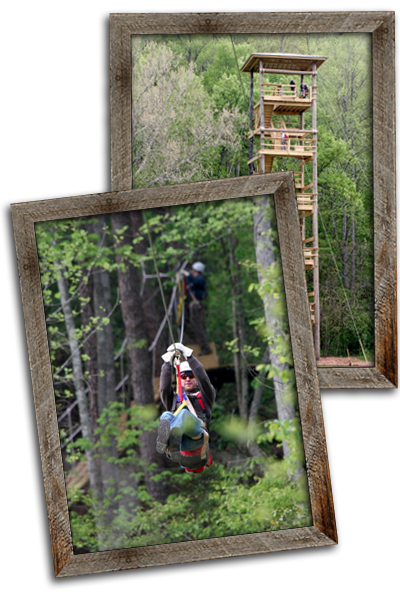 North Georgia Canopy Tours – Since opening in April 2010, North Georgia Canopy Tours has served over 40,000 visitors, become the first Canopy Tour in the world to achieve over 25,000 Facebook fans, added heated and air conditioned teepees, and installed a championship quality 18-hole disc golf course.
ZipLine Canopy Tours of Blue Ridge – Zipline Canopy Tours of Blue Ridge is designed on a 165 acre tract of land in the beautiful North Georgia Mountains, in the back yard of Blue Ridge. Located only 6 miles from downtown Blue Ridge, the property is some of the most beautiful you'll ever see. The course has over 6000 feet of cable, you'll zip through the property for over 1 mile, you'll experience the mountains from the treetops, you'll zip into the valley, soar over pastures, cross over Fighting Town Creek and much more. We're proud to offer one of the best zipline courses anywhere in North Georgia.
White Water Rafting & Float Trips
Rolling Thunder – Since 1977,  we've entertained almost half a million guests on the most popular and scenic rivers in the country: the Ocoee River, the Nantahala River and the Toccoa River. Join us for a whitewater rafting trip down a rushing mountain river or a gentle float trip and you'll see why Rolling Thunder has become THE preferred rafting company for over 35 years. These river trips become magical moments in your vacation and you'll find yourself rejuvenated and eagerly anticipating your next trip.
Stand Up Paddling
Surf Blue Ridge – Our goal is to introduce and perpetuate SUP as a lifestyle through lessons, trips or tours. With years of experience and knowledge of the industry, Chris will help you choose the right board and paddle for your intended use and eliminate the overwhelming choices available out there. The hardest part about SUP is showing up!
Boating
Three beautiful and pristine North Georgia Mountain lakes and the marinas to provide all your boating needs:
Boundary Waters Resort & Marina at Lake Chatuge in Hiawassee, GA.
Lake Blue Ridge Marina in Blue Ridge, GA
Lake Nottely Marina in Blairsville, GA
Golfing
Butternut Creek Golf Course – Features rolling valley holes and challenging slopes with mountain views from all 18 holes. Each hole is unique – none remotely similar to another. Golfers ask, "Why haven't we heard about this gem before?" We invite you to visit us in Union County and enjoy all that the we have to offer!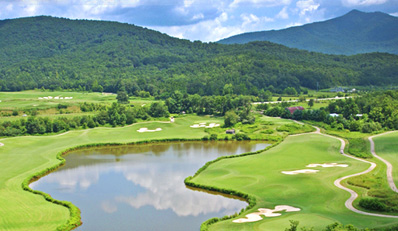 White Path Golf Course – Located in Ellijay, Georgia. Eighteen holes of golf on a beautiful, challenging, mountain golf course. This golf course is open to the public. Memberships are also available to Gilmer County residents, as well as out of towners. White Path Golf Course has a driving range and practice green.
Brasstown Valley Resort & Spa – The Brasstown Valley Golf Course has been ranked by both Golf Digest and Leading Golf Courses of America as one of the top Georgia golf courses to play. Designed by Denis Griffiths, the golf course winds through wildlife preserves, ponds and streams framed in by the mountains. With five sets of tees, all skill levels will be able to enjoy a layout that is maintained to standards you'd expect. It's great for the corporate outing, couple's getaway or the guy's weekend.